Here's some photos of Pheasant's Roost Shepherds Hut
If you are thinking of visiting Pheasant's Roost shepherds hut then these photos will give you a little more of an idea of what you can expect from our self-catering accommodation.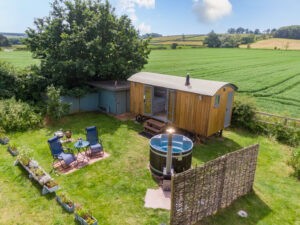 Reviews
Here are some reviews of Pheasant's Roost Shepherds Hut. If you'd like to see more then please check out our review page, Facebook page or Google. Our wood-fired hot tub is very popular! If you are looking for spotlessly clean holiday accommodation in a peaceful location and fantastic views of the North Yorkshire countryside, then read on…
Ryan Jones
15 January 2023
Me and my partner had such a lovely stay! Our hosts were fantastic, very friendly and helpful. Our Venue was stunning, such a lovely setting, very peaceful and highly recommended for anyone looking to just get away and relax! Would love to go back in the future to see more of the area!
Julie Mcveigh
20 November 2022
What a fabulous place to stay! Accommodation, location and that hot tub - just perfect (and a 10 minute walk to a choice of two pubs was a bonus)!
Jackie burns
30 October 2022
Lovely stay at this shepherds hut, lovely hot tub on an evening after walking the lovely Yorkshire wolds, plenty of space for dogs to run around, nice peaceful location. Will definately go back. Thank you Pauline.
Ellie Taylor
15 September 2022
We had the best time at the pheasants roost. Pauline was so lovely and helpful and the accommodation was spotless throughout. The hot tub was so lovely and beautifully clean and really easy to use. The views were stunning and everything we needed was there for us. It was the perfect minimoon for us and really well located for getting to York, Scarbrough etc. Would 100% recommend a stay at this lovely little shepherds hut!
Ben Calvert
4 September 2022
Just arrived home from a lovely 2 night stay here. We have stayed in a couple of these now, and this is by far the best. The Shepherds hut itself is really well equipped- like a home from home. The bed is very comfy (2 good quiet, comfy nights sleep) and nice kitchen and bathroom- all a high standard. The location of the place is great- just a short walk to the next village for food and drinks. We went to Pickering for the day also and was a great day out seeing the steam trains. Pauline is a great host. Thank you for a lovely weekend- didn't want to come home. Ashley & Ben 🙂
Emma Malcolm
27 August 2022
A little piece of perfection! We had such an amazing stay and can't wait to go back. We will be posting pictures and recommending to all our friends.
Anna Epitsheva
27 August 2022
I've stayed for 2 nights at the Pheasants Roost schepherd hut as a part of my Yorkshire Wolds hike. The bed was cozy and having a small kitchenette (and a fridge) allowed me to cook my meals. Having a hot tub and a comfortable picnic area was amazing and I was able to enjoy the magnificent sunsets there. The location is top notch - a village store is 10 min by feet and you can visit a lavender farm and nice walled gardens. Highly recommend this place!
Chris Saywood
5 August 2022
Great find, lovely clean modern shepards hut set in a quiet location overlooking fields with views towards the Yorkshire moors while sitting in a wood fired hot tub. Everything that we needed was provided for the hot tub,even had bbq utensils. Pauline was friendly making us feel very welcome, even had milk, tea, coffee and biscuits provided. Fantastic meal at the local pub the coach and horses but best to book. Highly recommended this getaway.
Absolutely excellent from the initial enquiry to the moment we left. Everything is just as described - a beautiful, quality, well organised, immaculately clean, supportive and caring holiday cottage. The hot tub is fantastic and we decided to book the Prosecco and ready to use option - would highly recommend this as you can start your holiday the moment you arrive with a real luxury touch. We have a 12 month old pouch and she was made extremely welcome and very well catered for. We used the fencing to make her a big playpen In the shade - a great idea to provide this facility. The garden, the loungers and the bbq were a very welcome addition too. Cannot recommend this Shepards hit enough - it's brilliant with brilliant hosts too.
melissa Southall
28 June 2022
2 time visiting and booked for a small honeymoon, Pauline and family are wonderful, really accommodating and always available to answer anything, we love the hut it is so well designed with all you could need and the hot tub and views are fantastic, we love it
If you are ready to book your stay at Pheasant's Roost shepherd's hut then please check the availability below:
Have a question about our shepherd's hut or prefer to book by phone? We are happy to help, so please get in touch.